Cops keep database of politically active Brits' license plates to enable stop and search harassment, equate peaceful protest with terrorism
Paul Joseph Watson - Prison Planet.com - Monday, October 26, 2009
Police in Britain have defined political activism as "domestic extremism" and are treating people who attend demonstrations as criminals, cataloguing them on multiple national databases as well as tracking their vehicle license plates to enable them to be targeted for stop and search harassment.
Read all
More: Spotter cards: What they look like and how they work - guardian.co.uk, Sunday 25 October 2009 20.30 GMT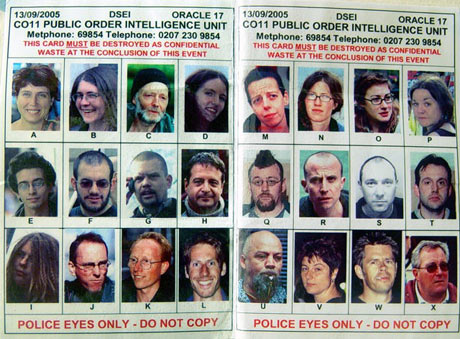 This kind of highly confidential document – pictured above – is rarely seen by the public.
These so-called "spotter cards" are issued by
police
to identify individuals they consider to be potential troublemakers because they have appeared at a number of demonstrations.
The photographs are drawn from police intelligence files. This card was apparently dropped at a demonstration against Britain's largest arms fair in 2005....
Read all
More: Police in £9m scheme to log 'domestic extremists'
--
Thousands of activists monitored on network of overlapping databases
25 Oct 2009
Police are gathering the personal details of thousands of activists who attend political meetings and protests, and storing their data on a network of nationwide intelligence databases.
The hidden apparatus has been constructed to monitor "domestic extremists", the Guardian can reveal in the first of a three-day series into the policing of protests. Detailed information about the political activities of campaigners is being stored on a number of overlapping IT systems, even if they have not committed a crime. Senior officers say domestic extremism, a term coined by police that has no legal basis, can include activists suspected of minor public order offences such as peaceful direct action and civil disobedience.
How police rebranded lawful protest as 'domestic extremism' --Forces gather details of single-issue protesters
--Activists claim monitoring has echoes of the cold war 25 Oct 2009
About 600 climate change campaigners had gathered outside the Drax power station in North Yorkshire... It was the type of demonstration which has been going on for decades in Britain. But the police appear to have had another, completely different view of the 2006 protest. After the demonstration, the first in what has become an annual gathering known as Climate Camp, North Yorkshire police conducted a review along with government officials.
Internal papers obtained by the Guardian show they called it "the first time domestic extremism took place against national infrastructure in the county". The term "domestic extremism" is now common currency within the police. It is a phrase which shapes how forces seek to control demonstrations.
The Snooper's Census: 2011 Survey Will Ask for the Name, Sex and Birth Date of All Our 'Overnight Visitors'
Ministers are being accused of planning to snoop into citizens' private lives in the most intrusive national census ever carried out.The 2011 survey will demand to know how many bedrooms there are in homes and detailed information about any 'overnight visitors'.
Other new questions include how well respondents can speak English, what kind of central heating they have installed, whether they have a second home, how they define their national identity and whether they are in civil partnerships. The Conservatives said the attempt to find out sleeping arrangements was particularly objectionable.
Read more...